Building Equitable Communities with the Sustainable CT Framework
---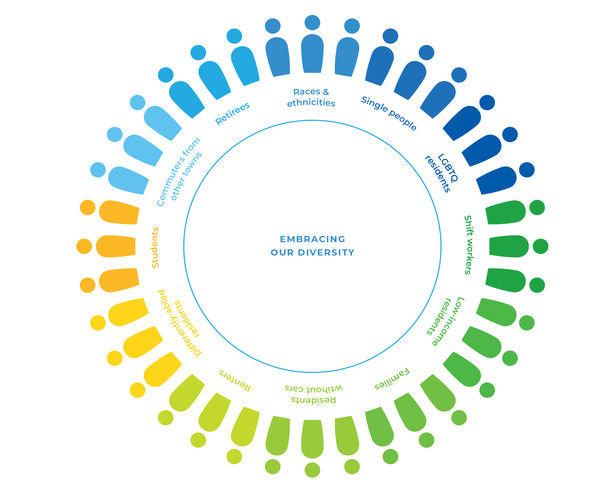 Equitable communities recognize the intrinsic value of each member and the need to connect with everyone, regardless of a person's race, gender, age, or sexual identity.
Sustainable CT believes that our communities can thrive and truly be sustainable only when social equity is achieved; that people's race, gender, zip code, etc. does not dictate their life outcome.
To build communities that embrace equity, Sustainable CT cities and towns will create a table where diverse relationships are welcomed and valued, where decisions are made collectively, and where success is measured by the variety of perspectives and experiences represented.
Sustainable CT Actions: Embracing Equity
---
Action 9.1: Optimize for Equity: There is only required action in Sustainable CT: Action 9.1 Optimize for Equity. This action lays out a process by which any other Sustainable CT action must be completed. The process is outlined in the Sustainable CT Equity Toolkit.

For Bronze Certification, you must complete the Sustainable CT Equity Toolkit for one Sustainable CT action that you are submitting for certification.
For Silver Certification, you must complete the Sustainable CT Equity Toolkit for at least three Sustainable CT actions that you are submitting for certification.
Action 7.3: Train Municipal Representatives: In this action your community sends a small delegation of municipal representatives (one seated elected official, one municipal staff, and one commissioner) to attend a three-part equity training series offered by Sustainable CT in 2020. Trainings are open to the public and free of charge, see further details below. This action is not required for Sustainable CT certification.
Sustainable CT Equity Supports:
Help for Your Community
---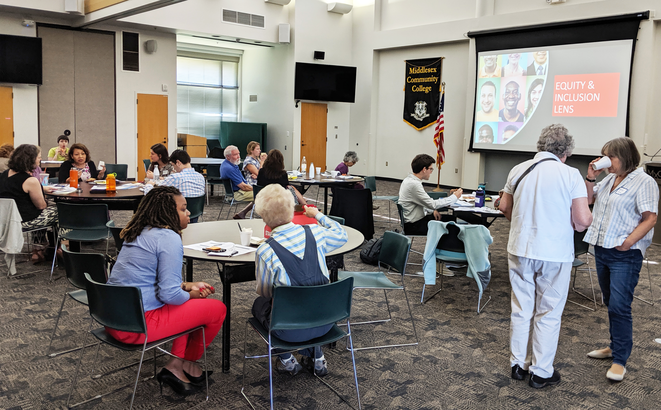 Equity Toolkit:
In this step-by-step process we walk you and your community through an inclusive process of engagement and co-creation.
Equity Coaching:
Communities may work one-on-one with an Equity Coach at no cost for up to four hours.
Equity Trainings:
Sustainable CT is hosting two sessions of our three-part equity training series in 2020. Join us at no cost!
Find details and registration for each half-day workshop below. Join us at the time or place that works best for you. Sessions include:


This highly interactive training provides a comprehensive introduction to equity, diversity, and inclusion (DEI). The training offers a variety of tools and teaching methods including graphic facilitation, visual imagery, theoretical models, small group dialogue and kinesthetic interaction, to create a dynamic space that supports all types of learners.

For 2020, we have two offerings for our Equity 101 workshop:
Advancing racial equity increases the prosperity, health, and safety of the entire community. In order to transform structures, organizations, communities, and systems, today's leaders need to be able to lead with an anti-racism / racial equity lens. Workshop facilitators show leaders how to apply anti-racism strategies to policies, practices, programs, evaluation, and financial decisions that advance equity in practical, tangible ways. Through exercises, discussions, and presentations, participants will strengthen their knowledge of strategies and tools to achieve racial equity.

For 2020, we have two offerings for our Everyday Anti-Racism workshop:
Gathering diverse stakeholders for community conversations is an important strategy for healing racial divides and building trust among different racial and ethnic groups, law enforcement, and local elected officials. This workshop provides an in-depth focus on major cross-cultural communication theories, ways that cultural values, power, privilege, and differences affect the way we communicate, tools for questioning assumptions, and ways to improve cross-cultural communications.

For 2020, we have two offerings for our How to Have a Conversation About Race, Bias, and Equity workshop:
Attendance for all three workshops is suggested, not mandatory.