Sustainable CT Community Match Fund
---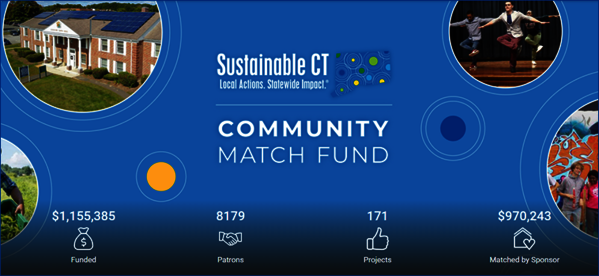 Sustainable CT's Community Match Fund is an innovative program that provides fast, flexible funding and support for engaging your community on wide-ranging sustainability projects. Eligible projects receive dollar-for-dollar matching funds from Sustainable CT.
Anyone in a Sustainable CT registered municipality can participate in this program to implement highly visible projects to improve their communities. Municipalities, nonprofits, community groups, schools, libraries, and individual residents can all propose projects and double their impact with our match funding.
We currently have special, targeted resources available for projects dealing with composting and energy (efficiency & renewable). And don't forget that towns can align projects to gain Action Points toward certification – a win-win! For inspiration, check out these examples of projects we've supported in these two vital areas:

In Composting:
In Energy (Efficiency & Renewable):
If you have an idea to make your community more sustainable, equitable, and vibrant, contact our Community Outreach Manager, at funding@sustainablect.org.

Need even more inspiration? Check out past and current projects in our Community Match Fund flipbook.
Detailed program information and eligibility is available here.

Watch highlights of inspiring Community Match Fund projects on CPTV's "Re:source:ful - Growing Sustainable Communities."

---
Sustainable CT's Community Match Fund is generously supported by the Smart Seed Fund, the Emily Hall Tremaine Foundation, and the Connecticut Green Bank.