Sustainable CT Fellowship Program
Please note: the application period for the 2023 Fellowship Program has passed. For information about the 2024 Fellowship application process, contact Jess LeClair at [email protected].
---

The Sustainable CT Fellowship Program places highly qualified fellows across the state's Councils of Governments (COGs) to help cities and towns become registered, certified, or recertified with Sustainable CT during the summer. The COGs serve as Connecticut's regional planning organizations. Click here for more information on COG locations.
Fellows will assist cities and towns within the various COG territories and will assist on COG projects that align with Sustainable CT goals. Fellows may or may not be physically sited in a COG office; there may be opportunities for remote or hybrid work locations.
Fellows will gain valuable experience working within a professional setting and will be directly engaged with cutting-edge sustainability initiatives, local government operations, and regional coordination and operation. Hear from former Fellows about their summer experience.
Learn more about our 2023 cohort.
View past Sustainable CT Fellows.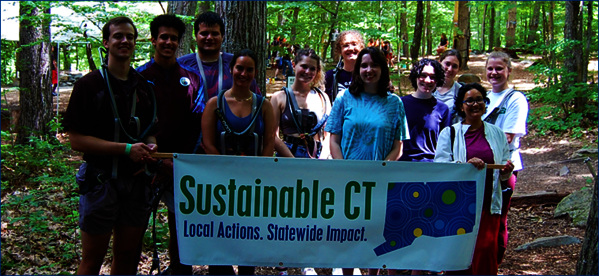 Fellowship Job Duties
---
Sustainable CT Fellow duties include:
Research sustainability initiatives in Connecticut municipalities.
Inform municipalities of resources, grants, success stories, for implementation of Sustainable CT actions.
Assist municipal staff and leaders in performing and documenting sustainability initiatives for Sustainable CT certification.
Maintain open communication channels with relevant municipal staff and elected officials.
Identify opportunities for multi-town collaboration between Sustainable CT municipalities.
Research implementation strategies and resources for towns pursuing different actions.
Identify potential partners/resources, i.e. in-town non-profits or organizations.
Participate in Sustainable CT Fellow trainings and events.
Assist with COG projects that align with Sustainable CT objectives.
Produce an end of internship report that documents successes and areas for improvement.
---
We are grateful to the following supporters of the Sustainable CT Fellowship Program.