The People Behind Sustainable CT
---


Sustainable CT was created by towns, for towns as a 501(c)3 nonprofit organization. Municipal leaders and residents from across the state, the Connecticut Conference of Municipalities and people from key agencies, non-profits and businesses partnered to develop the program during 2016 and 2017. The Institute for Sustainable Energy at Eastern Connecticut State University led and coordinated program development, with generous support from the Emily Hall Tremaine Foundation, Hampshire Foundation, and Common Sense Fund.
Check out this short video on Sustainable CT. Learn about the story behind the Sustainable CT logo. You can also listen to what people have to say about Sustainable CT around the State.
Stay up-to-date with the latest and greatest Sustainable CT news by reading our monthly newsletter and by tuning into The IMPACT: a Sustainable CT Podcast.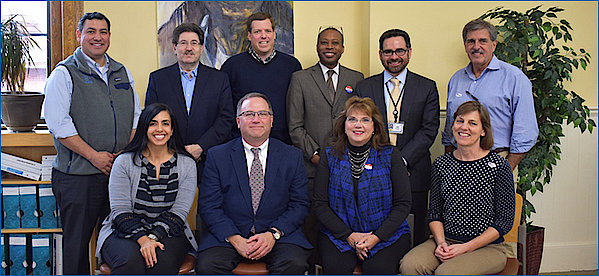 During 2017, the Advisory Committee, listed below, guided program development and developed a long-term governance structure for Sustainable CT.


| Members | Title | Organization |
| --- | --- | --- |
| Ted Shafer, Chair | First Selectman | Town of Burlington |
| Laura Francis, Vice Chair | First Selectwoman | Town of Durham |
| Carl Amento | Executive Director | South Central Regional Council of Governments |
| David Fink | Consultant | Partnership for Strong Communities |
| Bryan Garcia | President and CEO | CT Green Bank |
| Emily Gordon | Project Associate | Stamford 2030, Connecticut Fund for the Environment, The Business Council of Fairfield County |
| Donna Hamzy | Advocacy Manager | Connecticut Conference of Municipalities |
| Scott Jackson | Commissioner | CT Department of Labor |
| John Kibbee | Director | CT Commercial and Industrial Energy Efficiency, Eversource Energy |
| Rob Klee | Commissioner | CT Department of Energy and Environmental Protection |
| Kurt Miller | First Selectman | Town of Seymour |
| Kristina Newman-Scott | Director of Culture | CT Department of Economic and Community Development |
| Christine Schilke | Communications Director | CT Main Street Center |
| Christina Smith | Executive Director | Groundwork Bridgeport |
| Lynn Stoddard | Director | Institute for Sustainable Energy, Eastern Connecticut State University |
Working Groups
---
All of Connecticut's 169 towns and cities participated in Sustainable CT's development, represented directly by a municipal official, staff person, local volunteer, or by a regional entity representing member municipalities. Working groups met from February to June 2017 to develop the menu of actions, though our categories and framing continue to evolve. We are grateful for the more than 180 dedicated members of the nine working groups.
Working group members are available in PDF format and are available for download.



CCM Task Force on Sustainability
---
The Connecticut Conference of Municipalities Task Force on Sustainability created the vision for Sustainable CT in early 2016.


| Members | Title | Town |
| --- | --- | --- |
| Betsy Paterson, Chair | Former Mayor | Mansfield |
| Ed Boman | Assistant Director of Public Works | Fairfield |
| Sara Bronin | Chair, Planning and Zoning | Hartford |
| Dan Drew | Mayor | Middletown |
| Laura Francis | First Selectwoman | Durham |
| Matthew Hart | Town Manager | Mansfield |
| Jim Hayden | First Selectman | East Granby |
| Deb Hinchey | Mayor | Norwich |
| Thomas Madden | Director of Econ Development | Stamford |
| Kurt Miller | First Selectman | Seymour |
| Nacy Nickerson | Town Council Chair | Farmington |
| Steve Nocera | Director of Project Excellence | Danbury |
| Lisa Pellegrini | First Selectwoman | Somers |
| Ted Shafer | First Selectman | Burlington |
| Don Stein | First Selectman | Barkhamsted |