Building Equitable Communities with the Sustainable CT Framework
---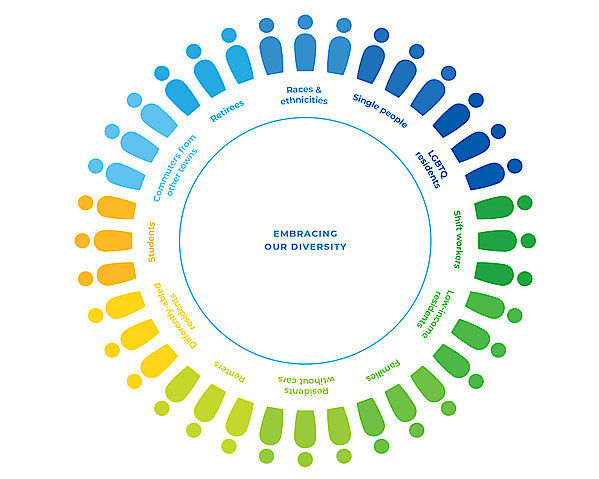 Equitable communities recognize the intrinsic value of each member and the need to connect with everyone, regardless of a person's race, gender, age, or sexual identity.
Sustainable CT believes that our communities can thrive and truly be sustainable only when social equity is achieved; that people's race, gender, zip code, etc. does not dictate their life outcome.
To build communities that embrace equity, Sustainable CT cities and towns will create a table where diverse relationships are welcomed and valued, where decisions are made collectively, and where success is measured by the variety of perspectives and experiences represented.
Check out Sustainable CT's Equity Overview document for a quick look at our equity requirement and available support tools. For frequently asked questions on our equity requirement click here.
Sustainable CT Actions: Embracing Equity
---
Action: 1.1 Optimize for Equity: There is only required action in Sustainable CT: 1.1 Optimize for Equity. This action lays out a process by which any other Sustainable CT action must be completed. The process is outlined in the Sustainable CT Equity Toolkit.



For Bronze Certification, you must complete the Sustainable CT Equity Toolkit for one Sustainable CT action that you are submitting for certification.


For Silver Certification, you must complete the Sustainable CT Equity Toolkit for at least three Sustainable CT actions that you are submitting for certification.
Action: 1.2 Participate in Equity Training: In this action your community sends a small delegation of municipal representatives (one elected official, one higher level municipal staff member (management and/or director-level), and one resident serving on your Sustainability Team) to attend a three-part equity training series offered by Sustainable CT. To complete this action your community may also support equity training for a cohort of at least three municipal staff and/or elected municipal officials (this would be a training other than the Sustainable CT sponsored training). Sustainable CT trainings are open to the public and free of charge, see further details below. This action is not required for Sustainable CT certification.
Hear from municipal and community partners about their experience with Sustainable CT's equity requirements and opportunities.
Sustainable CT Equity Supports: Help for Your Community
---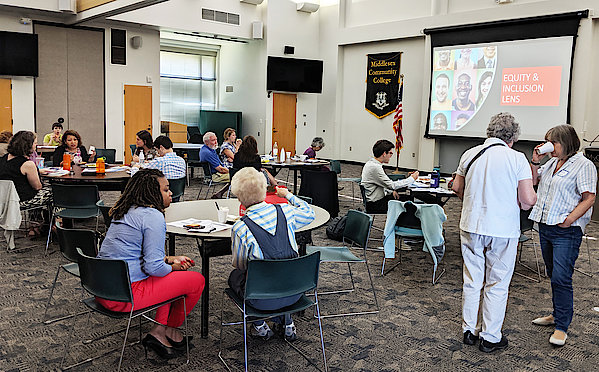 Equity Toolkit:
In this step-by-step process we walk you and your community through an inclusive process of engagement and co-creation. Watch a short video to hear from municipal representatives about their experience using the Equity Toolkit.
Equity Coaching:
Communities may work one-on-one with an Equity Coach at no cost. Watch a short video to learn more about the Equity Coaching experience.
CT Town Equity Reports:
Reports featuring disaggregated CT town data on social and economic well-being and equity.
Equity Trainings
---
In 2021 Sustainable CT offered four free, three-part, virtual equity workshop series that provided a comprehensive framework of racial equity, diversity, and inclusion (REDI). Attendance at all three sessions of a series was required. Content was geared to help Sustainability Teams integrate REDI considerations into their Sustainable CT initiatives. Who attended? Sustainability Team members (elected officials, municipal staff, commissioners, volunteers) in registered Sustainable CT communities.
Attendance in any of these workshop series is eligible for points under Action 1.2 Participate in Equity Training.
Sustainable CT anticipates offering equity trainings again in 2022. Stay tuned!
Please contact info@sustainablect.org with any questions.
---
We are grateful to the following supporters of Sustainable CT equity work.