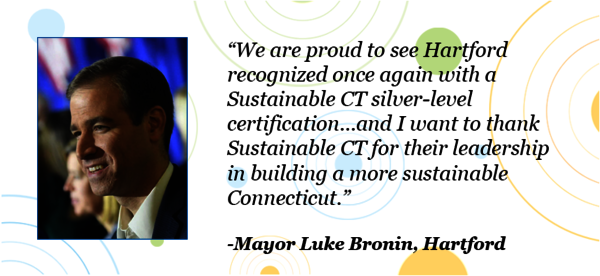 Support inclusive, resilient, and vibrant Connecticut municipalities.
Sustainable CT inspires and accelerates sustainability action by providing Connecticut municipalities with a menu of coordinated, voluntary actions; resources, tools, and funding to implement sustainability actions; and certification and recognition for their ongoing sustainability achievements.

By becoming a Sustainable CT sponsor, you'll align your company with our reputation as a trusted and valuable support program for municipal leaders and an innovative thought-leader in building livable communities. With emphasis on affordable housing, vibrant public spaces, safe and walkable roads, inclusive municipal decision-making, renewable energy, and more, Sustainable CT's action roadmap improves the quality of life for all residents and businesses. You'll join a growing list of companies that are helping us build a more vibrant and resilient Connecticut for their employees and their customers.
---
---
"What Sustainable CT adds is really creating a community of individuals, and helping to set a framework of what actions we are all collectively doing to move the state forward."
—Emily Basham, Associate Director, Financing Programs, Connecticut Green Bank
---
Our impact.
Sustainable CT taps into the power of creating change at the local level. Guided by the vision set by Connecticut's municipal leaders, over 200 people from local governments, non-profits, state agencies, businesses, academia, and our communities worked together to develop Sustainable CT. Each of Connecticut's 169 cities and towns were represented in the creation of the program.

---
"We fund Sustainable CT because they're providing the on-ramp for all towns to make our future more livable and sustainable."
—Sabina Cournoyer de Shelby, co-founder and President, Hampshire Foundation
---
Platform underwriting.
Choose to support one, some or all of our influential communications platforms. Take advantage of an integrated media strategy that provides underwriters with wide exposure to Connecticut's municipal decision-makers.
---
Sustainablect.org
The Sustainable CT web site is our hub of information resources and certification process, with over 36K page views per month. Full site (annual) support $10,000; pages* (annual) $500-2,000
*Front page not available for advertisement; other restrictions may apply.
---
Actions & Impact, the Sustainable CT newsletter
Our newsletter is sent to more than 10,000 municipal, state and federal officials, project leaders and volunteers each month, with "special editions" to keep our growing community informed of the latest sustainability news and activity. Full (annual) support $5,000; monthly $500
The IMPACT, a Sustainable CT podcast
Begun in 2022, our monthly podcast already has a dedicated following with an exceptional growth horizon. We feature interviews with some of Connecticut's most important sustainability leaders and activists. Full (annual) support $3,000; episode (monthly) $500
---
The Sustainable CT Coffee Hour
On a monthly basis, our virtual, signature forum for discussion provides program updates and resources, explores important sustainability topics, and strengthens the network of Sustainable CT champions. Full (annual) support $3,000; monthly $300
---
Sustainable CT Webinars
We provide free technical support webinars on topics ranging from arts & culture and procurement best practices, to complete streets and homelessness prevention. Be part of the solution. $300 per event

---
"Not only does the program give us an actionable framework to move forward, but we have also taken full advantage of the resources that are available at no cost to registered towns – technical assistance, trainings, equity coaching and, of course, the Community Match Fund."
–Mayor Shari Cantor, West Hartford
---
---
"We're very excited, proud and honored to be part of your community now and going forward. It's really inspiring to see you all and all the great work that you've done. I'm reminded of the Margaret Meade quote, 'Never doubt that a small group of thoughtful, committed people can change the world; indeed, it's the only thing that ever has.'"
—Jeff Kirks, VP Government Programs, Electriq Power,
at the 2022 Sustainable CT Awards Celebration
---
Event sponsorship.
Annual Awards Celebration
Our annual Fall awards event highlights the successes of Sustainable CT communities. This celebration is attended by elected officials, town staff, resident volunteers as well as our partner organizations. It's the perfect place to connect and network with the state's sustainability leaders. Naming support $10,000; additional $1,000—9,999
---
Spring into Summer Celebration
We'll be celebrating the newness of things. We'll introduce our new Equity Coaches and our newest class of Sustainable CT Fellows. We'll be honoring our newest cohort of Certified Communities, too, with the participation of our Board of Directors and the entire Sustainable CT team. We'll provide music, light fare and good cheer as we revel in Glastonbury's "brownfield to boathouse" success story. Naming support $5,000; additional $500—4,999
---
"[The Sustainable CT Fellowship] was a great way of giving me an active role in working with municipalities and making an impact."
—Sean Roach, University of Connecticut, 2022 Sustainable CT Fellow
---
Program sponsorship.
Help us change lives. Our programs produce results—in the lives of young people achieving experience, in the community that embraces equity, and in more than 240 Match Fund projects throughout the state. Be a part of the success story.

The Sustainable CT Fellowship Program
We place highly qualified fellows across the state's Councils of Governments (COGs) to help cities and towns become registered, certified, or recertified with Sustainable CT. Fellows gain valuable experience working directly with cutting-edge sustainability initiatives, local government operations, and regional operations. Full program (annual) $200,000; each fellow $10,000
---
Equity Training & Coaching
Sustainable CT offers three, three-part virtual equity workshop series. These events provide a comprehensive framework of racial equity, diversity, and inclusion (REDI). Communities may work one-on-one with an Equity Coach at no cost.
Equity Training
Full program (annual): $20,000
Workshops (3/yr): $8,000
Equity Coaching
Full program (annual): $40,000
Each coach (annual): $6,000
---
The Community Match Fund
Our innovative Community Match Fund provides fast, flexible matching funds to support and implement projects that align with our menu of sustainability actions. Community Match Fund Pool $50,000+
---
"Thank you for the shout out and thanks to our 60 donors! We have more than met our goal!"
—West Hartford Tree Project, a Community Match Fund Project
and Facebook follower
---
Being social.
All Sustainable CT sponsors enjoy monthly and special cross-platform exposure in our integrated social media network.
All data according to platform analytics for 2022 unless otherwise noted.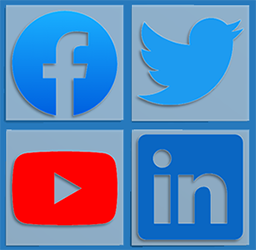 ---
"As a funder, when you're looking at organizational growth and development, I put Sustainable CT in the top percentile of growth on every milestone there is."
—Michelle Knapik, President, Emily Hall Tremaine Foundation
---
Recognition
Recognition and exposure through Sustainable CT platforms, events and programs.
---
Participation
Potential participation in Sustainable CT events.
---
Opportunity
Opportunities to take part in inspiring projects for your employee community service program.
---
Make a difference
And the most important benefit – knowing that you are making a difference.
---
Dollars and sense.
There are dozens of ways and levels of support from which to choose. Cross-platform and cross-program packages are available, too. Find out how you can leverage your support dollars, your impact, and your exposure as a Sustainable CT sponsor.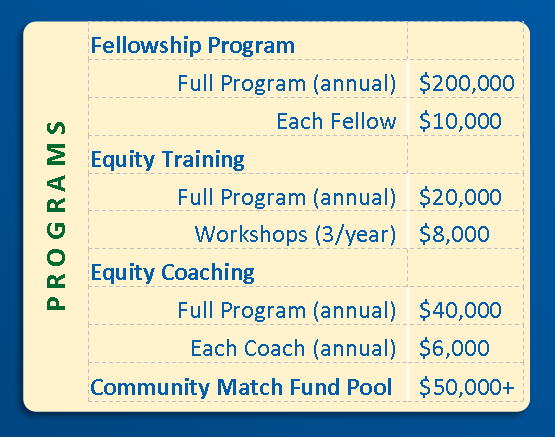 ---
"Jess and Lynn and the staff at Sustainable CT are awesome to work with and they'll do whatever they can to make the process work for you."
—David Oakes, Facilities Manager, Bristol
---
Team.

Dorothy Piszczek
Program Assistant



Inez Ortiz
Program Assistant



Jess LeClair
Senior Program
Director


Jim Hunt
Communications
Manager


Joseph Dickerson
Community
Partnership
Manager


Kate Richard
Program Manager
for Sustainability
Best Practices


Lynn Stoddard
Executive Director




Torin Radicioni
Program Assistant



Join us in
working for
a better
Connecticut.

Learn more about our team here.
---
The fine print.
Sponsorship does not grant or imply an exclusive arrangement on the part of Sustainable CT, Inc.
Sponsorship does not constitute an endorsement by Sustainable CT, Inc. of the sponsor's organization, products, services, or public positions.
Sponsors may not use the Sustainable CT logos, names or other designations for any purpose whatsoever without the express written consent of Sustainable CT.

---