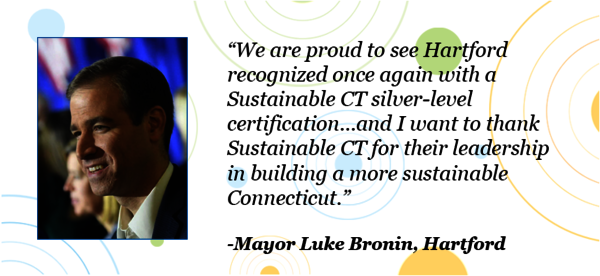 Sustainable CT inspires and accelerates sustainability action by providing Connecticut municipalities with a menu of coordinated, voluntary actions; resources, tools, and funding to implement sustainability actions; and certification and recognition for their ongoing sustainability achievements.
By becoming a Sustainability Champion, you'll align your company with Sustainable CT's reputation as a trusted and valuable support program for municipal leaders and an innovative thought-leader in building livable communities. With emphasis on affordable housing, vibrant public spaces, safe and walkable roads, inclusive municipal decision-making, renewable energy, and more, Sustainable CT's action roadmap improves the quality of life for all residents and businesses. You'll join a growing list of companies that are helping us build a more vibrant and resilient Connecticut for their employees and their customers.
---
Choose an Area to Champion
---
We're eager to hear how your corporate values align with ours and to customize a sponsorship package to align with your company's values. From annual levels of $2,500 to $20,000 and beyond, and options to direct your support to one or more of our four different impact areas, there are many ways to champion sustainability.
Be a Municipal Success Champion. Thousands of sustainability actions by towns and cities across Connecticut are supported and verified through Sustainable CT's rigorous certification program.
Be a Community Match Fund Champion. Our Community Match Fund empowers local residents to improve their own neighborhoods through grassroots, community-led sustainability projects.
Be a Sustainable CT Fellowship Champion. The Sustainable CT Fellowship Program engages smart and passionate college students to provide hands-on support to our towns and prepares these students to be future leaders.
Be a Transformative Equity Champion. Help us provide Connecticut municipalities with guidance, training, and coaching to build communities that are inclusive, equitable, and diverse.
---
Benefits of Sponsorship
---
Recognition and exposure through Sustainable CT platforms (website, social media, newsletter, email blasts, and select press releases).


Acknowledgement of your company's support and potential participation in Sustainable CT events (e.g., ribbon cuttings, training workshops, certification awards ceremonies, and podcasts).


Opportunities to take part in inspiring projects for your employee community service program.


'Lunch-and-Learn' opportunities for your corporate team (an insider's look at sustainability engagement by Connecticut towns and cities).


And the most important benefit – knowing that you are making a difference.
---
Sponsorship Guidelines
---
Sponsorship does not grant or imply an exclusive arrangement on the part of Sustainable CT, Inc.


Sponsorship does not constitute an endorsement by Sustainable CT, Inc. of the sponsor's organization, products, services, or public positions.


Sponsors may not use the Sustainable CT logos, names or other designations for any purpose whatsoever without the express written consent of Sustainable CT.
---
Let's Connect
---
To discuss how we can support your company's sustainability values and recognize you as a Sustainability Champion, please contact: Lynn Stoddard at [email protected].