---
Apply to receive free technical support
Community Resilience Building Workshops available to Sustainable CT communities.
---
Sustainable CT has partnered with the Nature Conservancy to offer free Community Resilience Building Workshops to communities across the state. By participating in a Community Resilience Building Workshop your city or town will satisfy the requirements for two Sustainable CT actions: Assess Climate Vulnerability and Implement Your Own Sustainability Action (for undertaking community resilience planning).
The CT Chapter of the Nature Conservancy team, in partnership with Sustainable CT staff, will facilitate a half-day work session and provide your community with all submission requirements needed to satisfy these two actions, earning your community up to 30 points.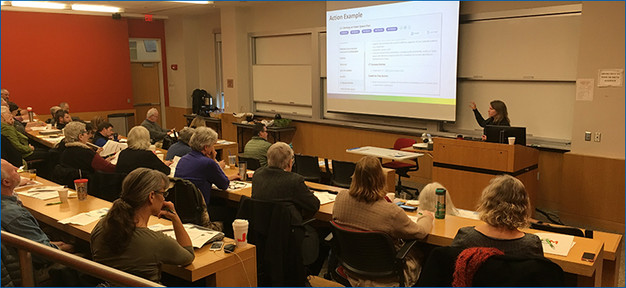 The Community Resilience Building Workshop Process
---
The Community Resilience Building (CRB) Workshop process is ideally suited to constructively and collaboratively enable communities to locate, assess, and prioritize impacts and solutions to climate change and natural hazards for infrastructure, community, and the environment including creative options such as nature-based solutions.
Developed by the Nature Conservancy specifically for Connecticut communities, the CRB process has been used by over 225 communities across eight states including Connecticut, Massachusetts, Rhode Island, and New York to help municipalities understand their own unique challenges and opportunities under current and future climate projections and natural disasters. In addition, the CRB process helps communities effectively and efficiently create resilience action plans specifically tailored to local needs.
Participation
---
In order to participate in this Sustainable CT offering of a free CRB Workshop, your municipality must:
Submit a letter of interest to participate in this Sustainable CT technical assistance opportunity by March 6, 2020 (template provided). Your letter should include:



Identification of a core team to participate in the CRB workshop (might include representatives from Departments of Public Works, Planning, Police/Fire/Emergency Response, Social Services, Economic Development, Governing Body, Board of Education, etc.);


A description of how the municipality will use the results of this process to inform ongoing or new planning efforts such as local hazard mitigation plans, open space plans, master plans, etc., and how results from this process would be used to inform that plan. This may also include an initial assessment as to how this process can inform other actions via Sustainable CT; and


A commitment to complete the CRB workshop by November 6, 2020.
Secure commitment from your core team to participate in the 5-hour in-person workshop session facilitated by experts from the Nature Conservancy;

Once selected the Nature Conservancy team in partnership with Sustainable CT staff will work with your municipality's CRB workshop team to conduct a pre-workshop Community Characterization Survey and to deliver the following:
A Summary of Findings Report;
A Completed Risk Matrix; and
A Copy of the Community Risk Map.

The Nature Conservancy will provide all professional facilitation services and report synthesis for individual municipalities. Each Community Resilience Building Workshop engagement will be provided for free to a select number of communities prior to November 6, 2020. It is anticipated that an additional CRB workshop opportunity will be offered in 2021.
Letter of Interest
---
If your community is interested in being considered for this opportunity, please send a letter of interest (template provided) to Jessica LeClair at leclairj@easternct.edu by March 6, 2020. If you have questions please contact Jessica via email or at 860-465-0258.